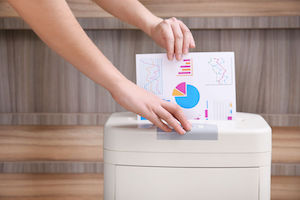 We have all watched TV shows depicting someone hurriedly flushing their drugs down a toilet or shredding documents while the police are pounding on the door. However, while destruction of evidence may seem like a great idea in the heat of the moment, it is a crime in Muskogee, Oklahoma. Here is what you need to know about the crime of destruction of evidence in Oklahoma.
Elements Of The Crime
In all criminal cases, the prosecution must prove every element of a crime beyond a reasonable doubt. It is a heavy burden. If any element is left unproven, there can be no conviction for that crime. Here are the elements of the crime:
willful
destruction of any book, paper, record, written instrument, or any other evidence or thing
knowing it was about to be produced in evidence at any trial, proceeding, inquiry, or investigation authorized by law
with the intent to prevent the book, paper, record, written instrument, or other evidence or thing from being produced.
OUJI-CR 3-37
Penalties For Destruction Of Evidence In Oklahoma
The crime is a misdemeanor. You could spend up to a year in jail, pay a fine of up to $500, or both. Okla. Stat. tit. 21 § 10
Defenses
Many defenses are built directly from the elements of the crime. If a prosecutor's evidence is weak with regard to an element, it opens the door for that evidence to be attacked by the defense. This is particularly true when the evidence is less relevant, meaning it may have some relationship to the element but is weak, or when there are legal problems with the evidence — such as matters that affect its admissibility at trial.
Other defenses include:
Accident. If the destruction was accidental, the prosecution will be unable to show that the destruction was willful. This might be the case when an employee gathers documents for routine shredding and the critical documents are accidentally included. It is a less credible defense if the boss is the person doing the shredding.
Lack Of Knowledge. Lack of knowledge regarding the importance of the evidence destroyed is somewhat related to accidental destruction. In this defense, a person knows that the item was destroyed but does not know its importance or that it was likely to be used as evidence against them.
For example, a cleaning lady notices a pile of bags near the garbage. She dumps them into the trash and takes the trash out. While she knows that the bags have been tossed, she doesn't know the importance of the bags or that they contain traces of meth. Thus, the destruction occurred without the requisite intent.
If you are facing charges for the destruction of evidence, get help from a Muskogee attorney. While these are merely misdemeanor charges, they can complicate the handling of the underlying crime involved and can add jail time to an already difficult situation.
Free Consultation: Muskogee Misdemeanor Attorney
If you are facing criminal charges of any kind, you need help to build a solid defense. Even small facts can make a big difference. Don't try to go it alone. Instead, get the help you need when it matters most.
Our experienced attorneys are here to help. We know your freedom is important and will work with you to preserve it. Our attorneys know how to build a strong defense.
Call a Muskogee misdemeanor attorney today at 918-884-7774 to ask questions or schedule a free, confidential consultation.