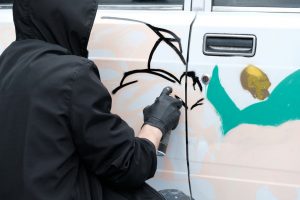 Vandalism or malicious injury to property is a crime in Muskogee, Oklahoma. Even if you do it as a prank, it may amount to malicious mischief and injury to property.
Oklahoma law treats malicious injury to property differently depending on the type of property damaged.
What is Malicious Damage to Property?
Damaging property maliciously is deliberately injuring, defacing, or destroying any real or personal property that does not belong to you. Malicious injury to property is tried as a felony or misdemeanor depending on the aggregate value of the loss arising from the damage, defacement, or destruction. The number of convictions also determines how the crime is tried in Muskogee. Okla. Stat. tit. 21 § 1760
A defendant is tried for a misdemeanor crime if the value of the loss they created is less than $1,000; it is a felony offense if the damage is valued at $1,000 or more.
Malicious injury to the property of another is also tried as a felony if the defendant has two or more previous convictions for the same crime. For a repeat offender, felony charges would be filed regardless of the value of the property defaced, destroyed, or damaged.
If damage, destruction, or defacement is done to multiple properties, prosecutors can add up the value of the loss incurred for each property and bring felony charges against the defendant.
Other Malicious Injury to Property
Malicious or negligent destruction of a railroad or its equipment is a felony crime. This is punishable by up to four years in prison. Obstructing a railroad in any way is also considered malicious injury to property. Okla. Stat. tit. 21 § 1751
Vandalizing bridges and highways by digging them up or injuring them in any way is a felony in Oklahoma. Okla. Stat. tit. 21 § 1753
Destroying or damaging shrubs, fruit, or trees is criminal vandalism in Muskogee. Picking someone's fruit or injuring their shrubs or trees in any way is considered a crime in Muskogee, OK. If convicted for this crime, a defendant could spend up to 30 days in county jail or pay a fine between $10 and $100. Okla. Stat. tit. 21 § 1773
Vandalizing landmarks: the law in Muskogee, Oklahoma, clearly forbids defacing or destroying landmarks in any way. Okla. Stat. tit. 21 § 1774
Destroying ornamental improvements, art, and collectibles is a misdemeanor. Okla. Stat. tit. 21 § 1784
Destroying collectible art or literature: injuring or destroying in any way, art, maps, and other items found in museums, galleries, public libraries, and similar places is tried as a misdemeanor in Muskogee. Okla. Stat. tit. 21 § 1785
Penalties for Malicious Injury to Property
The punishments meted out when convicted for malicious injury to the property of another are rather severe, considering the vandalism could have initially been viewed as a harmless prank.
If convicted on felony charges, the defendant could face up to two years in prison, a fine of up to $1,000, or both. Okla. Stat. tit. 21 § 9
If convicted of misdemeanor charges, a defendant could spend up to a year in county jail, be fined up to $500, or both. Okla. Stat. tit. 21 § 10
The court may also order the defendant to repay the victim up to three times the cost of the damage they suffered.
Free Consultation: Muskogee Criminal Defense Lawyer
Only an experienced criminal lawyer in Muskogee can work to build a strong defense for you. What may look like an insignificant issue to an inexperienced attorney may, in the end, determine your case.
Our Muskogee attorneys will stand up for you against bogus criminal charges or negotiate a better outcome if you did indeed commit a crime.
Our attorneys know how to present in court the details that can make a significant effect on the result of the criminal case.
Talk to our criminal defense lawyer in Muskogee, OK today at 918-884-7774. You may also schedule a free, confidential consultation.